A Medieval Cowl
by Randall Whitlock
This short article and cartoon was originally written as an answer to a customer's letter asking how to make
a medieval-style hood with shoulder cape. It later became part of the Randwulf's Collection of Capes pattern package.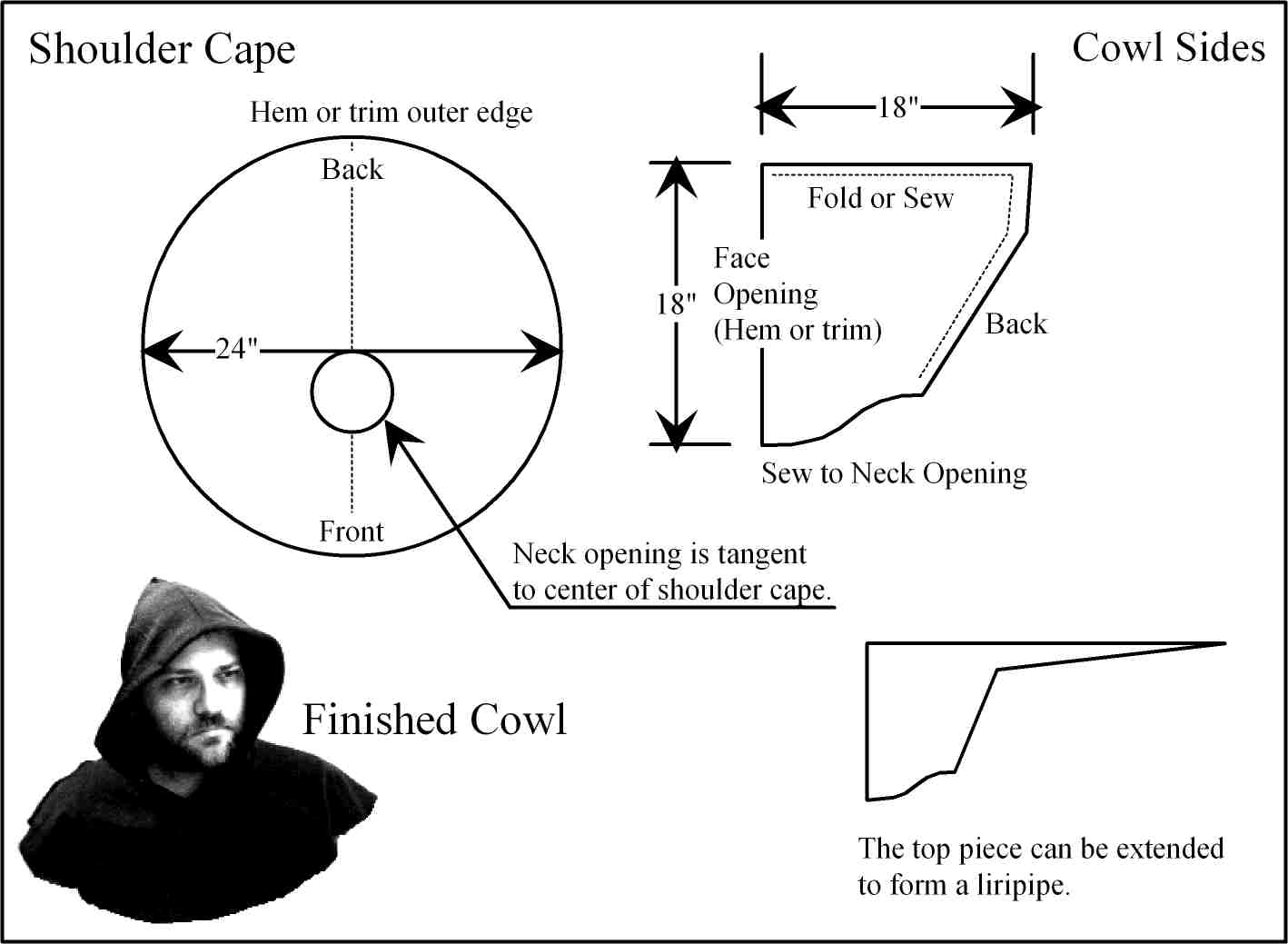 I generally make cowls in three pieces. The first is a circular shoulder cape cut wider than your shoulders, say 24 inches
in diameter. A circular neck opening (just big enough to get your head through) is cut in the shoulder cape, tangent to the center.
The other two pieces are the sides of the hood. The basic shape is an irregular pentagon with an S-curved base. The length of the
curved base equals half the circumference of the neck opening. Sew the two side pieces together along the top and back.
The straight remaining side is the face opening. Finish the face opening and the outer edge of the shoulder cape by forming
rolled hems or by applying trim. The curved base of the hood is sewn to the neck opening so that the face opening of the hood is
directed toward the shorter side (front) of the shoulder cape. The longer portion of the shoulder cape hangs down your back.
The side pieces can also be extended to form a liripipe, which is the long tail which hangs down the back in some 14th Century styles.

This article is one of many included in: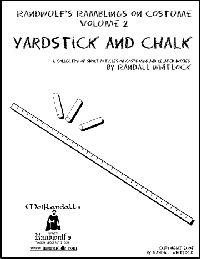 Randwulf's Ramblings on Costume, Volume 2: Yardstick and Chalk by Randall Whitlock
This book is a collection of published how-to articles on costuming and related hobbies I wrote from 1994 to 2007. Topics include:


Capes and Cowls.
A-Line Robes.
Cavalier Gloves.
Brass Etching.
Round Hats.
Pirate Costumes.
Plus cartoons and humorous editorials.
Illustrated by the author. Fifty-Five (8.5 by 11") pages with a plastic comb or spiral binder.

Yardstick and Chalk: $16.00


Write your check or money order to "Randall Whitlock" and mail it to:

MoiRandall's
PO Box 39504
Phoenix AZ 85069

Postage to addresses within the United States is included.
Add two dollars for shipping to Canada or Mexico.
Contact me via randwhit@moirandalls.com to calculate postage for overseas orders.



Return to MoiRandall's Index Page.
www.moirandalls.com

Return to MoiRandall's Patterns and Books Page.


Return to Southwest Costumers Guild Greetings Page.
www.SouthwestCostumersGuild.org

Return to Southwest Costumers Guild How-To Articles Page.