MoiRandall's Web Catalog: Greetings, Index, and Ordering Information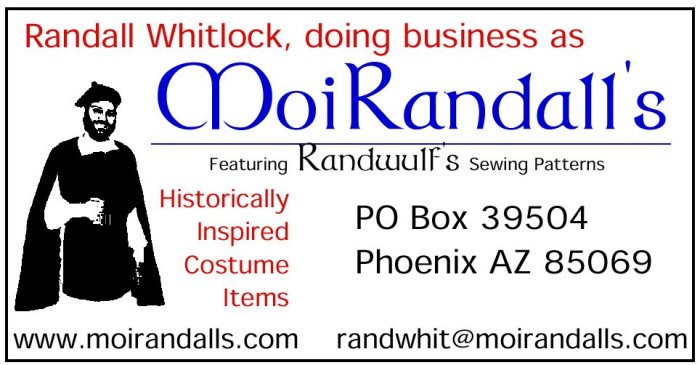 MoiRandall's is the doing-business-as name created in 1990 by Randall Whitlock to showcase his historically-inspired original clothing designs for the Science Fiction, Renaissance Faire, and Fantasy Literature enthusiast. His products include the Randwulf's line of sewing patterns.


Randwulf is the Anglo-Saxon word from which the modern name Randall is derived. Literally meaning shield-wolf, it was probably Saxon slang for a young soldier. Randall has used Randwulf as his persona name in medieval and renaissance societies, and as the nom de plume for his costume writings and sewing patterns since 1983.
Randall can sometimes be found at Science Fiction Conventions, Historical Re-Creation Events, and Renaissance Faires across Arizona.

We had a fine time at the AZ Haunters "Haunters Swap Meet" on September 29, 2018. Do you know another Arizona Event for MoiRandalls? Drop us an email.


?
MoiRandall's at the Two Rivers Renaissance Faire in Yuma, Arizona a few years ago.

Learn how the tent cover was made at Get Medieval on Your Pop-Up.
Index and Site Map
Internet links
How-To's and other articles
Quick Points (answers to frequently asked questions)
Placing Orders
Get a Catalog
Quality Guarantee
Making Copies
What I won't do
Protect Yourself Against Fraud

Quick Points (FAQ)
E-Mail me at randwhit@moirandalls.com E-mail is the most reliable way to make inquiries and I much prefer it over voicemail.
Write to me or send orders to PO Box 39504, Phoenix AZ 85069, USA
Send a business size self-addressed stamped envelope with a first-class stamp (US Addresses) for a paper catalog. No stamp = No catalog.
Write your check or money order to "Randall Whitlock." I don't have the right bank accounts for credit cards or online checks.
Expect your patterns or books about two weeks after you mail your order.
Shipping by US Mail to US addresses is included in the prices. I'll have to calculate shipping charges for international addresses.
The Randwulf's line of clothing patterns is available wholesale to qualified merchants. Please inquire.

Communications

Please disregard the cynicism. It's meant tongue-in-cheek.
MoiRandall's (a sole-proprietorship registered with the Arizona Department of Revenue and the City of Phoenix) is a "Doing Business As" name for Randall Whitlock. You are dealing with a real person here, not a faceless corporation. Business is done by the proprietor in his home, not by an unidentified factory in some far-away place without labor laws.

After much consideration, I have chosen no longer to publish my telephone number. Hardly anyone was using it and almost all the calls it records are robot spam. Please contact me by e-mail via randwhit@moirandalls.com.
Placing Orders
Please send written orders, inquiries and payments to my mailbox: MOIRANDALL'S, PO BOX 39504, PHOENIX AZ 85069-9504, USA. Questions and requests for digital catalogs can be sent e-mail via randwhit@moirandalls.com

Orders will not be shipped until payment is received (I've been burned before).

Payment
All prices are quoted in US dollars and payment must be in this form of currency. Money Orders are best. Personal Checks are okay. An acceptable personal check must be bank-imprinted with the signer's legal name and an accurate mailing address. Please write in your phone number and driver's license number, just in case.

Believe it or not, someone once tried to pay with a check bearing nothing but their "persona" name in a medieval society! Persona names are fun, but they're not suitable for business contracts.

Since MoiRandall's is just my dba name (yes, a persona name), checks and money orders should be written to "Randall Whitlock".

Sending cash through the mail is not recommended. I assume no responsibility.

I am not set up for credit cards, online checks, or electronic transfer of funds. I've looked at several options and they are more complicated than I wish to deal with. Gold would be nice.

Shipping
USPS shipping is included in the quoted prices for addresses within the United States. For orders weighing less than 12 ounces I'll upgrade shipping to first class or Priority Mail. For orders sent to Canada or Mexico, please add two dollars per pattern or book to cover the extra postage. Please ask for a quote on shipping charges if the order is to be sent overseas. The bank fees get complicated.

Return to Index
Wholesale
The Randwulf's line of sewing patterns and books is available wholesale at a substantial discount to qualified merchants and nonprofit organizations. Please inquire. From wholesale customers, I require a minimum order of ten or more publications (any combination) and request verification of the sales tax status of the organization.

Return to Index




To get updates of this catalog:

Paper Catalog: For a printed copy of the MoiRandall's Patterns Catalog, please send a business-size (#10) self-addressed envelope with one first-class stamp to: MoiRandall's, PO Box 39504, Phoenix AZ 85069-9504. If you are writing from outside the United States, please substitute an International Reply Coupon for a one-ounce letter package for return postage. The catalog is free, the stamp isn't. A catalog will not be sent if postage is not provided.

E-Mail Catalog: E-mail me at randwhit@moirandalls.com and I will e-mail back a an Adobe Acrobat .pdf file version of the catalog. The digital catalog includes color pictures. The catalog file size has increased over the years. It's currently about 600K.

Download A Catalog: There is a copy of the catalog file posted at catalog.pdf. This is the same file mentioned above. In most web browsers, right-click on the link and you will be offered the option of downloading the file, phrased as something like, "Save Target As." If you left-click the link, your browser will try to open the file, which takes longer.

Return to Index




Quality Guarantee and Limits of Liability

MoiRandall's garments are guaranteed against defects in material or workmanship. Should a defect be found, please return the garment to me for repair or refund within 90 days of purchase.

I am not responsible for after-the-sale damage to garments which results from normal wear, accidents, improper care, or improper cleaning by the customer. If you put satin or velvet in a washing machine, it's your own problem. If you wash bright colors in hot water or harsh detergent, you get what you deserve. Guarantee is void if the garment has been significantly altered since I cannot speak for the workmanship of others.
If you have a paper or digital copy of the MoiRandall's catalog, please make copies for your friends. I only ask that the catalog be copied whole (with all copyright information) and that you don't charge money above your copy costs for the favor.

Individual illustrations from the MoiRandall's catalog may be reproduced only by authorized resellers of Randwulf's patterns for use in their advertising. Contact me for clean, higher-resolution copies of these images.

Except for the specific waivers described above, copyright for the words and images in the MoiRandall's Catalog, Patterns, and Web Pages belongs to Randall Whitlock or is used by special permission of other publishers for the resale of their products. This catalog is part of how the Whitlock family makes its living and is not intended to be anyone's clip-art gallery. Just because an image comes up in a Google search does not mean it is in the public domain.

Return to Index


There are some things that are outside of my skill set or go against my ethics. These include the following:
I do not maintain or sell a mailing list! You will not receive junk mail, advertising e-mail, or junk phone calls by doing business with me. Fie on those who sell mailing lists to spammers! On the downside, I'm not set up to automatically send out catalog updates or product announcements. Please keep checking this web site for changes.
All garments require time to make, especially if they are to be done correctly. I expect a reasonable amount of time to complete a project and will not accept short-deadline commissions. Stress is contagious. Don't give me yours.
I do not make media re-creations for sale. If you want a Star Trek uniform, Superman costume, or Queen Amidala's court gown, you will do better to go through the media company's authorized vendors. These companies have access to the special materials needed for these costumes. I will not deliberately jump someone else's copyright, patent, or trademark.
A part-time craftsman is no substitute for a good library. I can make suggestions, but you should expect to do your own research on historical clothing.
My skills are oriented toward basic sewing and pattern drafting. If you are looking for jewelry, armor, leatherwork, corsetry, props, makeup, or theatrical sculpture, please consult one of the other crafters listed on my links page or e-mail me for suggestions.
Protect yourself against Fraud.
I've been doing business online for more than twenty years now. High-tech con artists have developed many ways to take advantage of people and all of them have been tried on me at one time or another. Here are a few examples:
Viruses. For sick and twisted reasons I do not understand, some people have written programs designed to harm your computer and its files. These are sometimes called viruses, worms, or trojan horses. These are often sent as files attached to e-mails. I will not send you an e-mail with a file attachment unless you ask me to. Do not open a file attachment you were not expecting. Use virus-checking software to test every file before you open it.
Spoofing. This trick makes an e-mail appear to come from a different address. Spoofing is often used to spread viruses. Unfortunately, many spammers spoof my domain name of "moirandalls.com." As of this writing, real e-mails from me do not bear the moirandalls.com domain name. If you receive a moirandalls.com e-mail, it is a fake. Do not open it.
Phishing. These are scams which try to trick you into revealing personal information, such as your bank account or credit card numbers. Since I do not accept credit cards or online payment, I have no reason to ask for this sort of information. Do not give personal financial information to someone you do not know.

419 Scams. These are insincere offers to buy wholesale. There are many variations. Usually the scammer will tell me he wants to buy my products if I ship them to a foreign country and will accept credit cards. The offers are usually very transparent, with a message that does not address my company by name or mention what kind of goods I sell. The 419 scam message almost everyone has received involves a deposed government/corporate official or his widow who wants to use your bank account to smuggle money out of the country. They're called "419" in honor of the portion of the Nigerian penal code that makes these scams just as illegal there as in the rest of the world.

Insincere Link Exchanges. These are probably not really meant as fraud, but can be astoundingly clueless. I receive several e-mail requests every month to add a web site to my links page in exchange for a back-link on the other page. Far too many these are obviously composed automatically from a mailing list generated by someone who does not understand the nature of my site. (High-tech sneakers and designer sunglasses are not really proper accessories for the medieval/renaissance reenactor.) If you want a link for your company, please address me by name and write out a message that convinces me you've actually read some of the content on MoiRandalls.com. Anything else will be spam-foldered. Don't lie to me about the back-link already being in place.

Naturally, I do everything I can to protect myself from viruses and online fraud. I will not open an e-mail unless its subject line makes some kind of sense. I will not open a file attachment unless the body of the message explains what is in the file and why it is meant for me specifically. Most of the phishing scam messages I receive are very generic and fail to convince me the sender has any idea who I am. When you write me an e-mail, please take care in its composition. I won't read anything with a blank subject site or something hopelessly generic, like "Hello."


Greetings Page updated August 6, 2018. All individual items for sale on these pages are current.