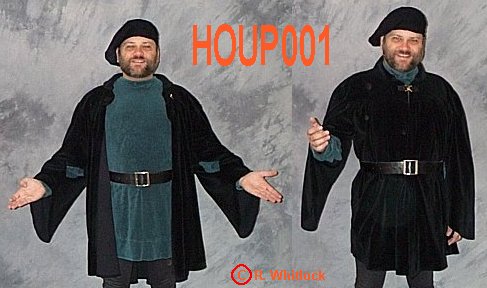 HOUP 001 - Black Upholstery Velvet Houppelande Wraparound with X-Shaped Clasp
Material

Heavy black cotton upholstery velvet

Body

Very full (84-inch circumference) body gathered in pleats to a 22-inch wide (at shoulder) yoke. 36 inches long (just above knee)

Sleeves

Long, rounded sleeves extend beyond your hand on top and to the wrist on sleeve bottom.
Sleeves have a second opening at inside of elbow.

Neck

Half-ellipse-shaped domed collar

Closure

Single X-shaped brass finish clasp at neck. Can be worn open or can be closed using the clasp and a belt.

Made using the yoke and body from the Randwulf's Pirate Shirt pattern, a new sleeve, and the domed collar from Randwulf's Collection of Capes.
E-mail randwhit@moirandalls.com and ask for HOUP 001 - $80

Return to Shirts, Robes and Tunics Page